What if you could gain the knowledge to perfect your craft of selling while commuting to work, washing the dishes, cooking dinner, and just going about your daily life?
Well, it's never been easier to do just that, thanks to podcasts.
Now, you can hop on the road to continual improvement, and you don't need to put aside any more time in your day.
Here are some of the best sales podcasts available for honing your craft, getting motivated, and getting ideas.
1. The Advanced Selling Podcast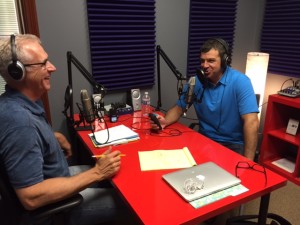 The Advanced Selling Podcast, hosted by Bryan Neale and Bill Caskey, is "the longest running sales training podcast created exclusively for sales professionals just like you to help you create your own sales success."
They focus on B2B sales, a topic in which they both have over twenty years of experience. Bryan and Bill complement each other very well, injecting stories, humor, and great conversation and commentary into each entertaining episode.
And with an archive of over 300 podcasts (easily accessible from their website), they've covered basically any sales related topic you think of.
You'll learn how to hone the right sales mindset, make cold calls, close the sale, build long-term relationships with prospects, and accelerate your sales career. Most episodes hover near the 10 – 20 minute mark.
Check it out here: The Advanced Selling Podcast
2. The Brutal Truth About Sales & Selling
This podcast dives into The Maverick Selling Method, which models the world's best salespeople and what they do differently. Once again, the focus here is on B2B sales.
The host, Brian Burns, has helped his clients gain over a 300% increase in new business, and 30% decrease in the time it takes to close business. His "no BS" approach packs some powerful lessons that ever salesperson can learn from.
Each episode starts off with the famous quote from A Few Good Men, "You want answers?" "I think I'm entitled." "You want answers?" "I want the truth!" "You can't handle the truth!" Nice touch.
Check it out here: The Brutal Truth About Sales & Selling
3. Ten Minutes to Double Sales
Che Brown's Ten Minutes to Double Sales Podcast is a great way to pick up selling and marketing techniques, along with a powerful dose of motivation, in a short period of time.
As the name of the podcast suggests, each episode is about 10 minutes long… with a new episode virtually every day.
What's great about Che's podcast is how positive and energetic he is. He loves reading letters from listeners and fans, and is big on appreciation, gratitude, energy and self-belief.
The "Sales Cardiologist" brings a decade of sales experience to topics like building trust, overcoming objection, social media, productivity and much more.
Check it out here: Ten Minutes to Double Sales
4. The Sales Evangelist
In this podcast, you're in the trenches with Donald Kelly – a B2B sales professional who's still hustling in the world of software sales.
You'll learn awesome strategies and inside techniques for improving sales, like how to sell to a CEO, how to break out of a sales slump, email techniques, sales software, how to prospect on LinkedIn, and how to develop a winning sales attitude.
Plus, he shares these sales lessons on an almost daily basis.
Check it out here: The Sales Evangelist  
5. Entrepreneur On Fire
Entrepreneur On Fire isn't specifically about sales, but can offer a ton of value. John Lee Dumas interviews a different entrepreneur every day, covering their biggest failures, their roads to success, and their biggest "Ah-Ha!" moments.
You get inside the minds of hundreds of successful entrepreneurs and really learn how they think, how to model their mindset for success, as well as what it takes to sell to a successful entrepreneur.
Check it out here: Entrepreneur On Fire
6. Rain Today
Rain Today is a prolific and popular sales blog that has been podcasting "tips and techniques to help you unleash your sales potential" weekly since 2009.
They cover a lot of topics, presented by a wide range of experts.
Topics include lead generation, social media, how to generate referrals, email marketing techniques, negotiations and much more.
Rain Today is a great resources for sales professionals, teams and managers.
Check it out here: Rain Today
Do you listen to sales podcasts? If so, which are your favorites? Let us know in the comments below!