Sales professionals get involved in sales for two main reasons; the pay, and the challenge. Most sales organizations focus too much on the pay and forget about the challenge. There are plenty of ways to offer incentive to sales professionals that do not revolve around money.
Here are 7 incentives that can really drive productivity and performance:
1. Flexible Work Schedules
Sometimes the standard work schedule is not the most effective arrangement for sales professionals. One of the ways you can offer incentive to your top performers is to give them flexibility over their own work schedule.
This arrangement often results in a marked increase in productivity during hours worked – a win for everyone.
Of course, the deal should be contingent on maintaining or increasing production levels, but offering flexible schedules can be a very strong motivator for sales professionals.
2. Recognize Over-Achievers
Sometimes, recognition for shattering a monthly sales goal or bringing in a huge account is all the motivation a salesperson needs.
Consider posting a list of quota-crushers on the office wall (or a virtual alternative like Slack), offer a premier parking spot or reward to the month's top producer, or simply recognize great effort in a weekly sales meeting.
3. Empower Over-Achievers
Empowerment is less flashy or public than rewards and recognition, but it often provides stronger, and longer-lasting motivation. Give highly successful salespeople empowering opportunities such as training new hires, meeting with the executive team to discuss strategy or operations, or fulfilling a unique role or function on the sales team.
4. Encourage Friendly Competition
Some sales managers have occasional competitions to push their sales team. Others publicly display closed deals or sales numbers as a rule. Bragging rights  and the desire to be on top (or away from the bottom) can be a strong incentive for salespeople to hone their skills and work hard.
But be careful. Collaboration is key for a sales team. So an environment that's overly competitive or that incentivizes individual achievement over team achievement can backfire. So consider competitions that allow your team to work together.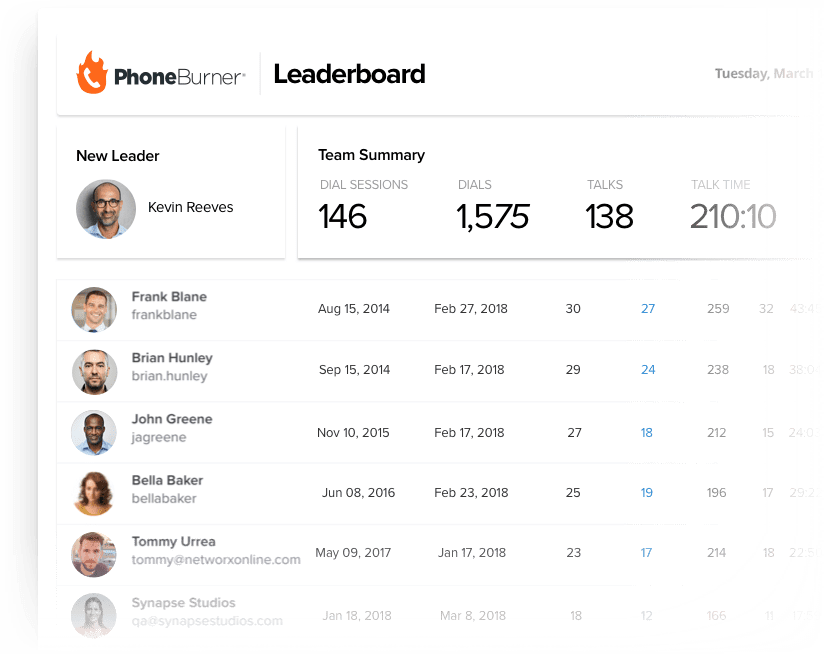 PhoneBurner's live, self-updating leaderboards are a great tool for motivating via competition (or just keeping private tabs on your team).
5. Offer Vacation Time
Salespeople pay for themselves through their production. When you have a sales professional delivering consistently strong results, an extra day off or two is both justified and deserved.
Think about how you might dangle the incentive of extra vacation time for effort or results.
6. Offer Opportunity
Most sales people equate a challenge with being given more opportunity. If you have a sales territory that is open, then offer it to your top performer as an addition to what they already have. Offer them bonus leads, or access to higher-otential leads such as real-time leads.  Giving your top performers more opportunity is not only free for the company, it can result in more revenue.
7. Treat Them Well
When sales people feel supported, valued, and generally happy, they want to work hard and do well. That's why smart companies (and sales managers) make it a priority to create a positive work environment where everyone's efforts are genuinely appreciated.
Chances are this will help you keep talented sales staff around longer, too!
Wrapping Up Ways To Motivate Sales People That Do Not Involve Money
Money is an important motivator to a sales professional. But it's not the only motivator. Not by a long-shot. Some of the best ways to motivate and incentivize salespeople that do not involve money include:
Flexible work schedules
Try simple ways of publicly acknowledging great performances
Empower superstars by getting them more involved in company operations
Encourage your team to engage in fun, friendly competition
Give vacation time as incentive instead of cash
Give overachievers the chance to overachieve in additional territories
Create a positive work environment where everyone feels valued