Looking for an auto-dialer?
A quick analysis of auto-dialers and a top alternative

Auto dialers, and dialers in general, are not all created equal. In fact, each has a specialized set of features, uses, advantages and disadvantages – depending on their intended use. Here's what you need to know to choose the right dialer for your business.
What is an auto dialer?
An auto dialer, or autodialer, is a device or software that automatically dials phone numbers and waits for a live answer. When a live answer occurs, an auto dialer will do one of two things – play a recorded message or transfer the call to a live agent.
Plays a recorded message
Also known as voice broadcasting or robo-calling. If the person who answers can press a button to interact with the system – ie. to answer a survey question, confirm an appointment, or request an agent – it is known as IVR (interactive voice response).
Transfers the call to a live agent.
Because the call can only be routed after the software determines the call was answered live, there is an audible delay between when a contact says "hello" and when an agent comes on the line. If no agent is available the call is dropped.
Auto dialer disadvantages
The distinguishing feature of an autodialer is that the device determines whether a human answers the phone or not. An agent is not actually present when they answer. The resulting connection delay tips off the contact that software is being used to call them.
For this reason, an autodialer is not ideal when the goal of a phone call is a productive live conversation – as in sales and fundraising, for example.
A power dialer is much better suited to these kinds of situations.
When an auto dialer is a good choice
Automatic dialers are ideal for blasting or broadcasting messages and reminders, and for soliciting responses to surveys and appointments. They can reach a high volume of numbers with significantly lower (or no) employees needed. Schools and religious institutions, for example, can make good use of auto dialers for announcements. Doctors offices can use them to remind patients of appointments. Political organizations can use them to conduct polls and research.
Auto dialers and compliance
Autodialer laws, which are enforced by the FCC under the TCPA (Telephone Consumer Protection Act) are continually evolving. That makes it important for users to stay informed about compliance. Laws pertaining to automatic dialers apply specifically to devices that dial telephone numbers without human intervention – that is, without an agent initiating the start of each call.
Compliance is multi-faceted and includes limits to the percentages of dropped calls, the ability to call and text cellular phones without consent, as well as adherence to general telemarketing laws such as acceptable call times, and do-not-call regulations. Because of potentially heavy fines, organizations using auto dialers are wise to fully understand compliance, and to consult an attorney prior to use.
An effective alternative that helps companies fully comply with the TCPA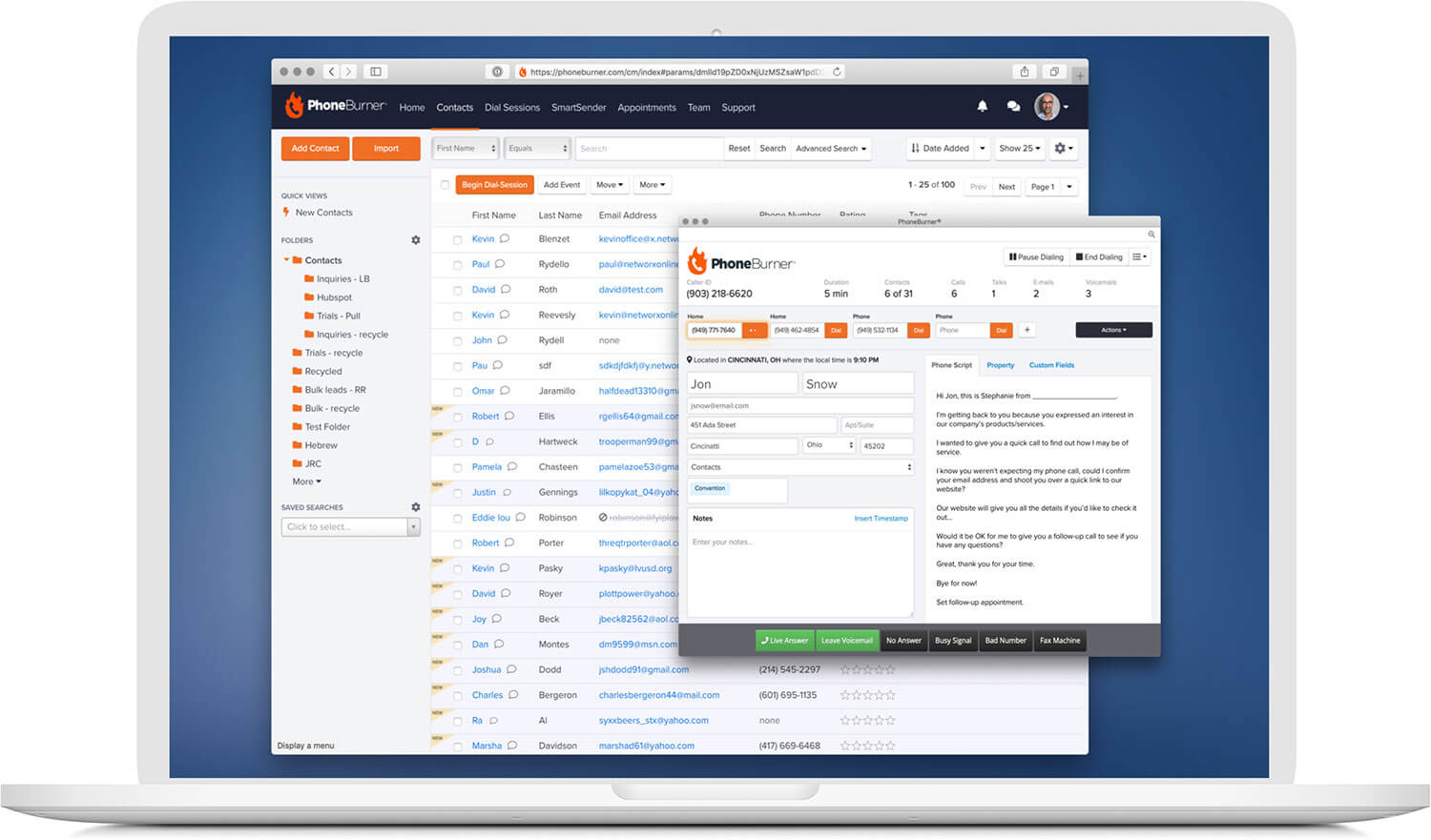 PhoneBurner's power dialer is a popular and highly effective auto dialer alternative, especially for organizations, businesses, and call centers who rely on live conversations with contacts.
Because an agent initiates each call and is on the line when someone answers – conversations are 100% natural, and risk of TCPA fines for dropped calls is eliminated.
Productivity increases of 300%-400% are common, due to the software's ability to eliminate manual dialing, drop voicemails (without waiting for the beep), sending one-click emails, and fully automating post-call workflows.
Start your free trial today – and see why thousands of companies choose PhoneBurner over an auto dialer.