Last Updated on August 10, 2021
When it comes to generating more revenue for your business, outbound calling is a tried-and-true tactic that can pay serious dividends.
Outbound calling can produce new leads, re-engage older leads, and nurture existing relationships. There are countless opportunities to turn outbound call campaigns into sales, and it's a relatively efficient and cost-effective method to boot.
In this post, we'll explore exactly what outbound calling is, and how to optimize your approach to outbound calling to bolster your results.
What is an Outbound Call?
An outbound call is a call placed by a sales or prospecting agent to a prospect or customer. These calls may be initiated by call center or telemarketing agents, or independent professionals such as an insurance agent or mortgage broker. Outbound calls are made by businesses of all sizes, and across all industries.
By contrast, an inbound call is initiated by the customer to your call center or agent.
Outbound calls may often be the first step in a sales process, but they are commonplace at virtually any stage of a sales funnel. In fact, outbound calls are typically a part of a prospecting or sales cadence that may include several phone calls as well as emails and texts.

Agents make outbound calls to prospective customers to raise awareness for a product and generate new leads for the company. They also place outbound calls to existing customers for to create product awareness and upsell opportunities.
Outbound sales calls can also be responsive. A prospective customer may visit your website and request more information, for example.
This can be the result of a successful pay per click (PPC) ad campaign on Google or Facebook. The prospect, intrigued by your offer, clicks on the ad, and is taken to a page on your website to share their information.
In this scenario, your sales agent will reach out directly to your lead via an outbound call.
Outbound calls can also be used for non-sales related purposes, such as debt collection, market research and surveys, fundraising, information dissemination, and ongoing relationship nurturing.
Inbound Vs. Outbound Call Centers
There are three types of call centers: Outbound, inbound, and dual or blended (i.e., a center that handles both incoming and outgoing calls).
All three types of sales call centers are focused on the same thing: Converting prospects to customers, but they go about it differently.
Outbound Sales Call Center
In an outbound sales call center, the agent initiates calls to prospective customers. Outbound sales agents call prospects from a prepared list based on market research. Typically, these calls are cold calls.
Cold calling is a popular sales technique where a sales agent reaches out to a prospect either without previous contact, or to a known contact who is not expecting the call. In other words, a cold call is unsolicited. The prospect on the other end of the phone call may not know who the company or agent is or what they offer. The agent has a limited time to state their case and begin engaging the prospect.
Cold calling can be intimidating for agents, especially if they're unprepared. However, cold calling is still a go-to marketing technique for many businesses because it can be very effective. Many agents have been able to win over new customers from a cold call simply by gaining their trust and demonstrating immediate value or a solution to a pain point. The ability for an agent to have success is largely dependent on the quality of list for the product or service being sold.
Outbound sales calls are not always "cold." Outbound sales calls can also be the result of email follow-ups or based on a scheduled appointment. If your sales agent has already been in contact with a prospect, they may continue to nurture the relationship through a series of outbound calls.
Outbound call centers have special phone equipment that enables agents to make outgoing calls to previous, current, and prospective customers. Modern workplaces often use special call center software like predictive dialer software or power dialer software, to maximize their productivity and minimize common sales management stressors, such as lead distribution.
Outbound call centers are also powered by customer relationship management software, or CRM for short. CRMs help sales teams manage communication history with each contact and deliver a personalized sales experience.
The main challenge of an outbound call process is that prospective customers are not initiating the contact. This means that you could be calling at an inconvenient time or they may simply screen calls and not pick up because they don't recognize the number. Outbound sales calling is a numbers game. To successfully meet your sales objectives, you need to increase the total number of calls made.
In an outbound setup, sales agents need to be more outgoing and willing to do what it takes to generate leads. They should be ready for rejection and have a plan to counter hesitations.
Inbound Sales Call Center
In an inbound sales call center, the agent receives calls from prospective, current, or previous customers.
Typically, inbound sales call centers handle calls from prospects who want to learn more about your products or services. If your prospects have questions before purchase, they may reach out to you via your inbound sales call center. Your agents can then answer questions to reduce hesitation and persuade the prospect to make the purchase.
Your inbound sales agents can assist current customers with upsell or cross-sell recommendations. They can also handle renewals (although this is typically assigned to an outbound call center).
In addition to sales, an inbound call center may handle customer service and technical support issues. A prospect may call with questions, concerns, and complaints, and agents will be trained and equipped to successfully help them.
The main challenge for an inbound call center is agent empowerment. Your agents should understand the ins and outs of your products/services and be good at listening and problem-solving. They need to exercise patience when handling customer complaints and guiding them through a solution.
The Benefits of Outbound Telemarketing
Here are the main benefits you'll gain by including outbound calls in your marketing strategy:
You'll generate new leads
This is the number one reason why companies go with outbound calling. People still answer the telephone. With a good list, and a solution to a pressing need or pain point, outbound calling can be very effective in driving interest and engagement.
A good script is needed to generate interest and establish an opportunity to start building a relationship that can be nurtured with discovery, and a follow-up cadence. While it varies by industry and product, the average prospect needs to engage with your business between 9 to 12 times before they decide to buy. A phone call can be an excellent starting point.
You'll generate leads quicker than other methods
Outbound calling is an efficient and cost-effective way to get in front of prospective customers. With a script and a phone, you can be live and in front of target customers in minutes. Compare that with other outbound marketing methods, such as direct mail and TV commercials. These methods can be time consuming to prepare.
You'll be able to test your approach right away
When you do outbound calling, you can monitor your approach, measure its effectiveness, and iterate or pivot quickly. How are prospects responding to your script? Is your offer resonating? You can also monitor your agents to discover individual weaknesses and strengths.
Best Practices for Outbound Calling
Now that we've defined outbound calling, let's discuss how to optimize your calling process.
1. Make Sure to Comply With Federal & Local Laws
First and foremost, know the law. Be sure that your outbound call practices are in compliance. According to the Telephone Consumer Protection Act of 1991 (TCPA), here are just some of the rules to abide by:
Adhere to the National Do-Not-Call Registry
Know what times of day you can legally call contacts in different states
Identify yourself and your company, and include your number on voicemails so prospects can call back and request removal
Provide your contacts with the right to opt out, and if they do, you must comply
You can't block your phone number on the caller ID
Click here to learn more about the Telephone Consumer Protection Act.
There are many other regulations, including the TSR (Telemarketing Sales Rule) that you must abide by as well.
This is list is by no means exhaustive, and you should always consult an attorney prior to outreach.
2. Create and Test a Script
Create a script specific to your current outbound campaign and list. A good script reduces agent call reluctance/anxiety, highlights a solution to a pressing need or pain point and opens the door to a conversation, and ensures consistency in customer interactions. Remind your agents to use the script as an outline and not to follow it word for word. Otherwise, they may end up sounding robotic.
3. State Why You're Calling Immediately
Avoid too much small talk at the beginning of your call. Your prospects are busy. Respect their time by getting to who you are and the reason you are calling. Unless your opening pitch captures their interest and suggests a conversation would be of value to them, they'll have no need to stay on the phone with you.
If it's not a good time, agree on a time in the future to call. If it's a good time to talk, be clear with them how long you'll take on the call, and don't go over that limit.
4. Use Their Name and Ask Questions
People don't like to feel like a number, or someone on a long contact list. A personalized approach that uses their name and company name can help with engagement. Even more important are questions that establish whether they even have a need for your solution in the first place. Stop selling and start solving. Of course, you can't solve a problem until you've identified one with good questions and listening skills. Only then can you seal the deal with an approach that speaks to their needs.
5. Use a Local Phone Number
People are less likely to answer phone calls from area codes that they don't recognize. To encourage the prospect to pick up the call, use a phone system like PhoneBurner that automatically assigns you local Caller IDs for locations you regularly call.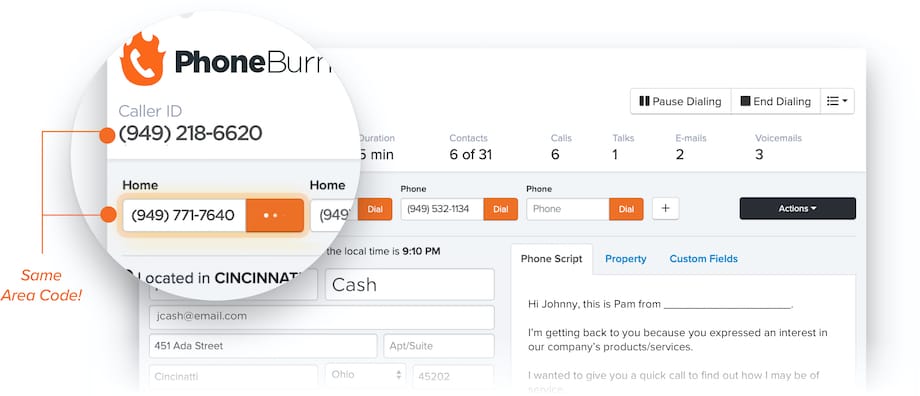 Using local numbers as you can dial – as opposed to having every call originate from one number – can also help mitigate the risk of "scam likely" flags. Call volume is one of many factors carriers use to apply these flags, so rotating numbers may reduce volume below important thresholds.
6. Follow Up
Success doesn't happen in one call. It's a process. Persistence is what separates top sales pros from their peers. Use a cadence complete with calls, emails, and texts to engage contacts, and take a coordinated approach to solving their problem with your solution. Often, timing is everything so take the long approach over now or never. Be sure to take detailed notes in your CRM so that your timing and messaging matches their needs.
Final Thoughts
Outbound calling is alive and well, and helps businesses of all sizes to generate new leads and revenue. The method is cost-effective, efficient, and a powerful complement to other marketing and sales initiatives. Use the above tips to improve your outbound calling strategy, and increase your prospect conversion rate.
Need a platform to power your outbound?
Consider a free trial of PhoneBurner's dialer software.